If you're planning on visiting North Dakota, then chances are, you're interested in Jamestown. It's a large city known for its large population of buffalo. In fact, they have the world's largest buffalo statue!
But that's not all you'll find in Jamestown, which is also known as the Pride of the Prairie. This is a vibrant and family-friendly city, so you'll find plenty to do with your loved ones when you visit. So in addition to the capital of Saint Paul, MN, put this city on your itinerary.
Want the scoop on the best things to do in Jamestown, ND? Then keep reading for 10 Jamestown activities you should try!
1. Visit the World's Largest Buffalo
Jamestown is home to the World's Largest Buffalo Monument. This guy is called Dakota Thunder and he was created by sculptor Elmer Petersen.
Dakota Thunder was created in 1959 and stands watch from the Frontier Village. It wasn't until 2010 that he received his official name, thanks to a contest.
He stands at 26 feet tall and weighs 60 tons! The monument is made out of concrete, so it's no wonder why it's so heavy.
Make sure you bring your family to the end of Louis L'Amour Lane to see this gigantic buffalo. Snap some pictures and you'll have some great images for your social media accounts!
If you want a similar experience, visit Paul Bunyan and Babe the Blue Ox in Bemidji, MN.
2. Spend a Day at Frontier Village
After seeing the world's largest buffalo, you should head into Frontier Village since you're already there. This is one of the best places in North Dakota to visit since it transports you back in time to the pioneer days.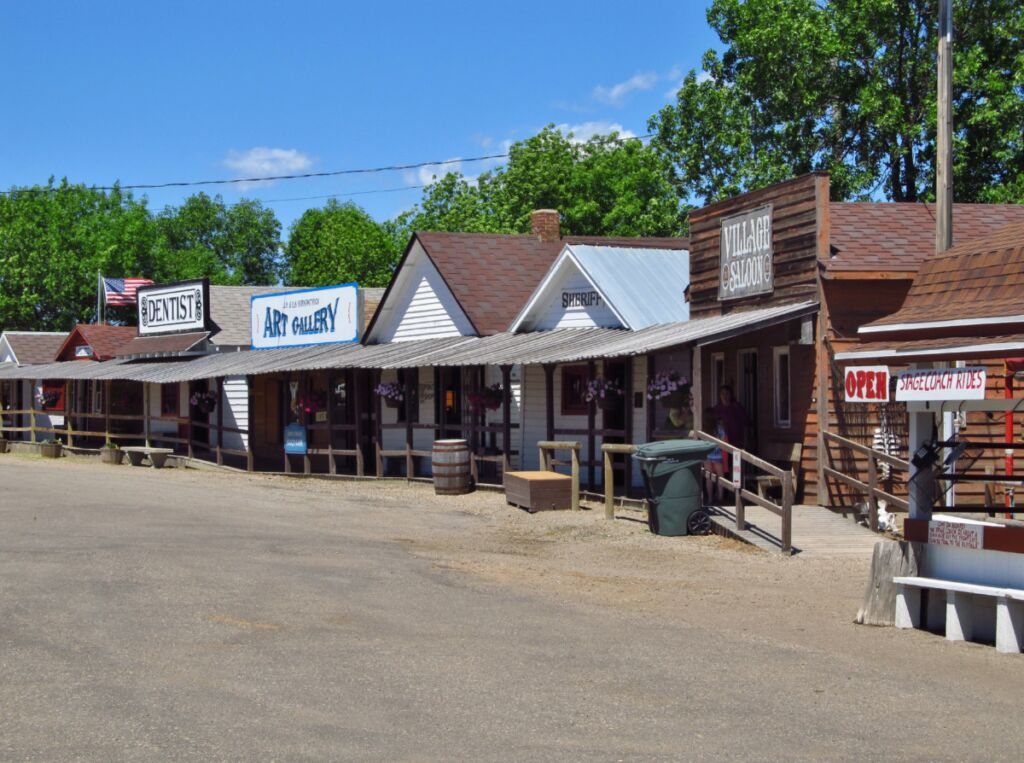 Here, you'll find original buildings from frontier villages that were painstakingly brought to Frontier Village, such as a school, bank, and church. Inside these buildings, you'll find lots of antiques and artifacts, which give you a glimpse into pioneer life.
Don't forget to visit Louis L'Amour's shack. You'll get to learn all about this western author!
Before you leave, check out the gift shop. There are plenty of handmade goods made by local artisans you can bring home as unique gifts.
Do note that Frontier Village is only open from Memorial Day until the end of September. The plus side is, there's no admission, so it's free to visit!
3. Visit the Fort Seward Military Post
Fort Seward Military Post is a fantastic point of interest for history buffs. This was actually an active fort from 1872 to 1877, and today, it serves as a learning center.
This fort actually has the largest United States flag, so get a picture of it if it's flying when you're there!
In addition to the fort itself and the US flag, this area also has the Veterans Memorial Wall and Walk, which offers a peaceful stroll. You can also opt to camp at Fort Seward, either in tents or an RV. If you're interested, don't miss out on the opportunity for historical camping!
If you're in town during the 3rd weekend in June, then catch the Big Guns of the Old West. This is an annual event that's full of excitement and fun.
4. Ride on the Fort Seward Wagon Train
If you're looking for unique experiences, then look no further than the Fort Seward Wagon Train, which has been running for over 50 years. Riding on a covered wagon will give you firsthand experience as to what it was like to be a pioneer. You'll also get to have meals around a campfire and learn some crafts.
Don't miss out and plan your trip accordingly if you'd like to ride on the Fort Seward wagon train. It doesn't run year-round, although it does run annually.
Most years, they do a wagon train during the summer. For example, for 2022, they'll do the South Creek Trail from June 19-25. Register ahead of time to avoid disappointment!
5. Tour the National Buffalo Museum
As we've mentioned above, North Dakota (and Jamestown) are home to some majestic beasts. The American Bison is a national treasure, and what better way to learn about it than to tour the National Buffalo Museum?
This museum first opened in 1993, thanks to the National Bison Association. They determined that there should be a designated space to display everything having to do with buffalo, such as artifacts and artwork.
What's interesting about the National Buffalo Museum is there's actually a pasture where bison are raised and cared for. In fact, they've been doing this since the early 1920s! At one point, they had an albino buffalo, whose stuffed body mount can be found in the museum.
Of course, the museum also has a Museum Store, where you can buy a wide variety of souvenirs to take home.
6. Check Out the Louis L'Amour Exhibit
Louis L'Amour is a local treasure, as he's a famous writer born in Jamestown, ND. So it makes sense for you to check out the Louis L'Amour Exhibit if you're in the area.
This is an interactive kiosk that goes into detail about L'Amour's life. If you didn't know anything about him before, that'll certainly change after you've gone through the exhibit!
The Louis L'Amour Exhibit is an excellent family activity. And you just might spark your kids' interest in reading some books by him!
7. Have Fun at Klaus Park
Take some time to enjoy the great outdoors by stopping by Klaus Park. Both tourists and locals alike make good use of the amenities, so you won't feel out of place.
Klaus Park spans over 20 acres and there's a golf course, 18-hole disc golf, dog park, skate park, and picnic shelters all throughout the park. There's also a large playground where your little ones can burn off some extra energy if you're bringing them along.
You can also go walking, hiking, or biking on the many trails nearby. These will take you through breathtaking scenes of nature.
8. Relax at the Jamestown Reservoir
Here's another activity in the outdoors if that's what you're into. The Jamestown Reservoir spans almost 2,500 acres and 45 miles of shoreline. You'll definitely find your own slice of paradise out there!
There are 2 swimming beaches and several biking trails here. You can also play disc golf, indulge in water sports, and chill out with your family at the 7 picnic shelters. For those bringing their kids, there's also a nice playground at the Jamestown Reservoir.
In addition, there are boat docks where you can set out and go fishing at a well-stocked pond. Species of fish you'll find here include bluegill, smallmouth bass, bullhead, pike, and walleye.
Jamestown Reservoir also has 2 campgrounds if you wish to stay the night.
9. Stay at Lakeside Campground
Speaking of camping, here's another option if you can't get enough of it. You'll find Lakeside Campground just east of the Jamestown Reservoir.
Here, you can either go old-school and camp out in a tent, shack up in an RV, or stay in a nice cabin. In the daytime, you can relax at the public beach or go fishing out in the marina. Start your kids young and take them to the Little Britches Fishing Pond, where they can catch a few fish of their own.
10. Have a Meal at Sabir's Buffalo Grill
Sabir's Buffalo Grill is the best restaurant in town. Once you've dined here, you'll want to keep coming back! They've got everyday specials, such as 1/2 off a bottle of wine, so you'll be able to save some money on most nights.
But what's special about the restaurant is they serve bison burgers and steaks. This is highly recommended for adventurous eaters, as where else can you get something like this?
If you've got family members who are gluten sensitive, then you'll be pleased to know that Sabir's Buffalo Grill has gluten-free options available.
FAQs on Things to Do in Jamestown, ND
Maybe you have some questions about Jamestown before you stop by. If so, then take a look at our FAQs!
What's Unique in Jamestown, ND?
What's Unique in Jamestown, ND?
Is Jamestown, ND a Family-Friendly Place to Visit?
Yes, Jamestown, ND is a family-friendly place! There are lots of activities for children.
What's the Weather Like in Jamestown, ND?
If you're visiting in the summer, you'll enjoy warm temperatures. In the winter, you'll get freezing temperatures, as well as wind and snow.
Have the Best Time on Your Trip to Jamestown, ND
There are so many things to do in Jamestown, and we haven't even covered them all. Use this list as a starting point and feel free to explore while in this amazing town. You never know if you'll uncover some hidden gems!
Going state-hopping and Minnesota is next on your list? Then read this article on the top things to do in Brainerd, MN!